Product Tour:
See Connected Merchandise in Action
Discover how in-store digitization technology is driving profitability through inventory management, store localization, loss prevention, and the customer experience for brands and retailers.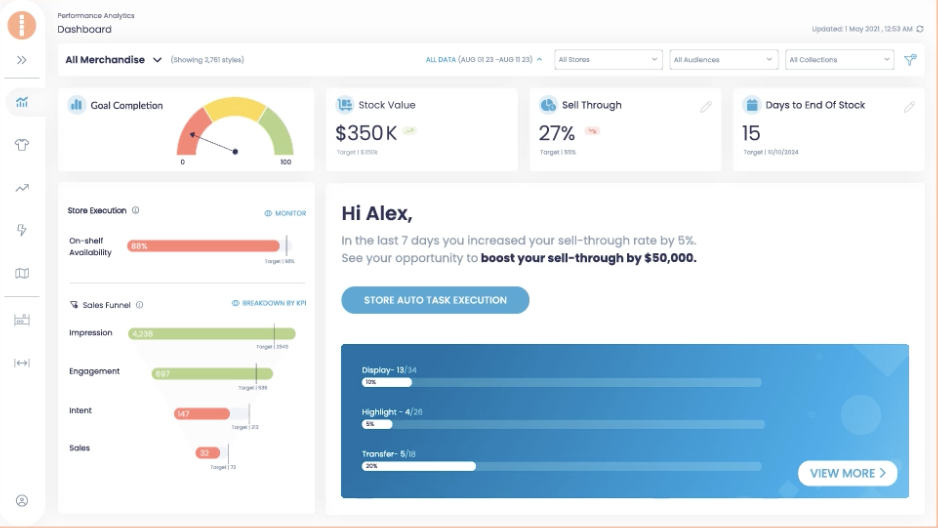 Go Beyond Foot Traffic and Sales Data -
Unlock The Entire Customer Journey In Your Stores
Use patented NanoBT tags to gather real-time, never-before-available data on how shoppers engage with your merchandise. Data automatically flows from every product through fixed readers, and is processed in the cloud to reveal an entire world of actionable insights.
Whats You'll Discover in the Tour:
How customers engage with merchandise - from mens/womens and categories down to the individual style - at every stage of the customer journey

Nexite 'Fit Score' - a unique ranking, determining the quality of the buy and fit to the store, in comparison to other styles in that store

AI generated recommendations that help you increase full-price sell through

Automated inventory management to support store operations




Rapid alerts that spot merchandising challenges, with recommended actions that improve localization and inventory balancing

Money maps of each store which optimize visual merchandising and guarantee compliance to how your customers shop



Key Features:
Merchandise Performance Insights

Sell Through Prediction

Automate Store Execution

AI-Generated Recommended Actions

Store Level Money Map